In Dr Donald Epstein's book "The Twelve Stages of Healing". The 12th Stage is
COMMUNITY

.
The quilt that I have just completed has evolved into a timely representation of this important part of the human condition….
Community

. We all have a desire to bring our gifts to the world, to share, enjoy recognition, and to receive the gifts of others. Epstein says that "Wholeness comes from bringing our individual gifts into community. This occurs in our internal and external communities.".

Coming in to community is indeed what happened in order for me to complete this quilt. I had become stuck with it (Stage 3 of "The Twelve Stages of Healing").

I had a surprise and welcome invitation to join with a small group of quilting women…one of whom had designed this quilt! I leapt at the chance, gratefully received guidance, and was away again and able to finish the quilt. I really enjoyed being with the other women too!

As this quilt emerged, like any living system, the sum of its parts began to take on a new wholeness.

It had a story to tell me.

Here it is…COMMUNITY.

"When the inner house of the heart is filled with love and light, the ability for the individual to come into community and share with others and receive the gifts of others, is enhanced.

Hence all the houses here together have heart-fabric as the doors, representing love in all the homes.

On a collective level…the family, town, city, country, and globe can be in harmony when there is love in each home. Each individual, family etc is able to still be colorful and unique, yet enjoy the common threads of connectivity at the heart level of humanity."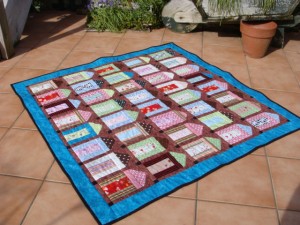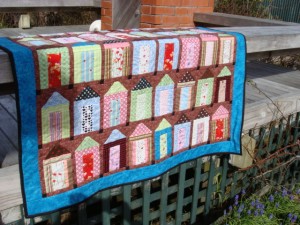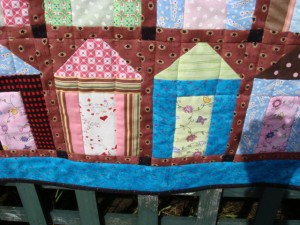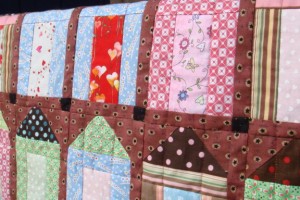 The quilt pattern is designed by Gourmet Quilter. It is called "Houses Using 5 Inch Squares".
Please visit my previous post to see her Mystery Quilt starting in the next couple of days!! Gourmet Quilter designs great quilts, so hurry to catch the start of her latest Mystery Quilt.
Tweet