I have been making progress with the tulips of the last post.
See below a couple of pics of the start of the build-up process to make a quilt.
I don't have a pattern…it is just developing organically as it progresses.
I am enjoying the process and rather like the element of surprise as things just seem to come together.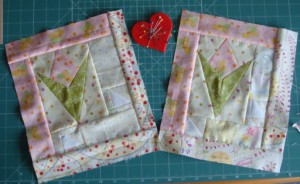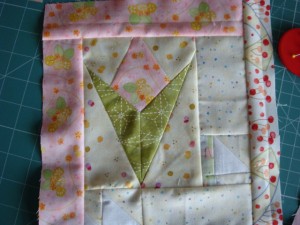 I had made some small 1/2 square triangles and was able to use them as part of the framework for the tulips.
Learning the quilters' jargon, I had the opportunity last week to join a couple of other quilters with a UFO. (Unfinished Object – for beginners like me).
It was great because I had started a quilt over a year ago and had got stuck in the process. Yesterday I finished the quilt top, and made up a backing, and pinned the three layers. Cotton is ready and tomorrow I intend to start quilting the three layers.
Exciting!!
More to come.
Salsy
Tweet