I seem to be a little carried away
with making snappy bags just lately.
Although there are several blogs
and videos about how to make these
I followed the YouTube video
by the Gourmet Quilter….
A small bunch was given away as Boxing Day gifts…they were snapped up actually.
Then a couple were sold at work..
and before I knew it the bug had bitten me
and a few more were quickly created.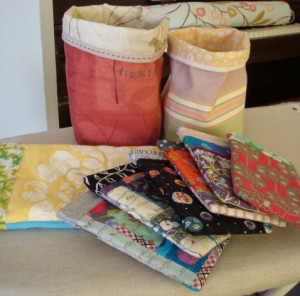 Then there are the latest models which I have listed in my Etsy Store…
have a look at these cuties HERE.
These bags are so easy to use..great for sunglasses, reading glasses, phones, cameras,
keys, tissues……and so satisfying to create.
Salsy.
Tweet