is the 2014 Pantone Quilt Challenge.
Rules:
All items must be started in 2014 to be eligible
1. There will be 3 categories:
– Minis: Shortest side under 30". Pillows, table runners, place mats, mug rugs, etc. will count as minis.
– Quilts: any size from baby to bed (shortest side must be at least 30").
– Just the Top: any size from baby to bed (shortest side must be at least 30").
2. This is the Radiant Orchid Quilt Challenge, so your project must contain at least some Radiant Orchid or similar purple. You can also use any other colours or neutrals you like (and as many as you like). That said, we would like to see Radiant Orchid as the feature colour of your quilt and we will be asking the judges to take your use of Radiant Orchid into account when making their decision.
3. You can submit one entry per category. Entries for quilts and minis should be completed projects, including quilting and binding.
Entries:
1. A link party/gallery will be hosted at Play Crafts and On the Windy Side. Entries will be open from March 14 – March 21 2014. Entries will close at on March 21 2014 at 11pm PST and winners will be announced on March 26 2014.
2. Each entry should link to a blog post / Threadbias post / Flickr page
3. Each entry should include quilt dimensions.
---
Do please take a look at Adrianne's site for the list of yummy prizes from very generous sponsors.
I have taken the option of making a Mini quilt as my entry for the competition.
I decided to stay with my stash..really enjoyed going through my scraps,
and bought only the binding new.
"Radiant Orchid" as a theme..would have to attract a beautiful butterfly don't you think?
My quilt measures 20" wide and 16" in height.
I have backed it with Daisy Janie's organic cotton "Pinstripe" from the Shades of Grey Range.
The quilting was fun and free-range.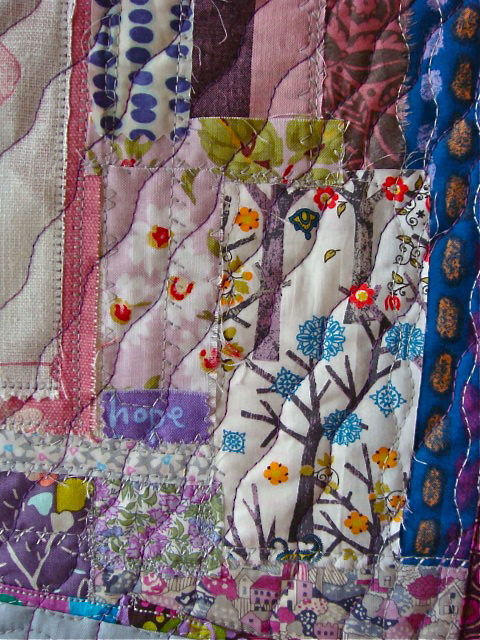 I am posting only one photo at this stage..a little of the detail and style of the quilt is shown.
More to come when I put my entry in in the next couple of weeks.
FUN!
Salsy
Tweet