Well it is summer here and hot out in my garden.
we have another fun Blog Hop Party
with GIVEAWAYS.
Just last week I had a burst of artistic inspiration and got to work on a fabric art quilted wall hanging.
The starting point were some strips of beautiful Designers Guild fabric that I had left over from my cushion-making splurge a few weeks ago.
I just kept on adding pieces to the montage, including a few bias edges that I had kept (yes I do).
The resulting piece is "Early Evolution From Ocean To Garden"..or just a combination of a few of my passions…marine biology, gardening and colorful fabrics.
A few pieces of Daisy Janie's organic cotton range "Shades of Grey" made it in to the piece, and it is backed with Zipper Tape from that range too.
The binding is a little Malka Dubrawsky's Stitch In Color.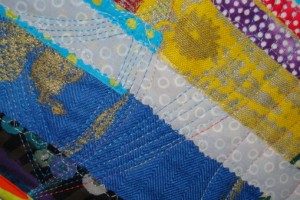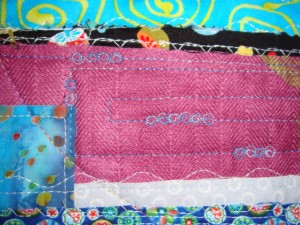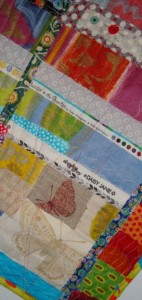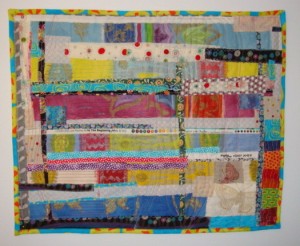 Just after taking these photos I went out into my garden..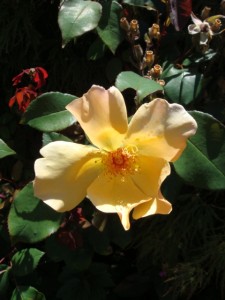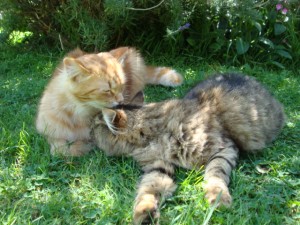 All is well with my little helpers.
So for my giveaway I will send the lucky winner a small SURPRISE pack of fabric scraps from my favorite fabrics that could be added to your very own creation.
THIS IS A MYSTERY GIVEAWAY. 🙂
ALL YOU HAVE TO DO TO ENTER IS A DOUBLE BACKWARD FLIP IN PIKE POSITION…
OH NO!
JUST LEAVE ME A NICE COMMENT. 🙂 BEFORE DECEMBER 15.
OF COURSE I AM VERY HAPPY TO POST TO ANYWHERE IN THE WORLD.
HAVE FUN CHECKING OUT THE 150 175 PARTICIPATING BLOGS FROM ALL OVER THE WORLD.
ENJOY.
SALSY
Tweet