Happy to announce that Margaret from Arkansas
is the lucky winner of the Blog Hop Party Giveaway
organized by Michele at Quilting Gallery.
I have posted off your parcel Margaret and I do hope you enjoy the surprise.
Many thanks to all who entered…I did enjoy your comments each and every one
and sincerely hope that not too many off you needed remedial care after doing the double back flip in the pike position!
Thinking of being stretched…I made a cake yesterday from a recipe that I had not tried before.
I was lucky enough to be able to pick some fresh raspberries from the canes in our garden
and wanted to do something other than just eat them fresh. I found the recipe for Blueberry Sponge Cake
in Annabel Langbein's "The Free Range Cook".
This is a gorgeous book!
Of course I swapped the blueberries for my fresh-picked raspberries and just sprinkled organic coconut shavings on top.
I'm glad I checked the cake early as it was browning up for a burn after 35 mins, not the 50-60 mins recommended.
This is how it turned out.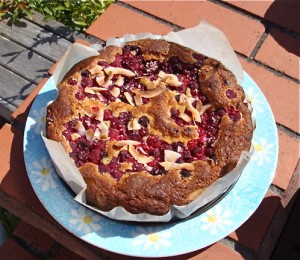 OHHH That was yesterday…and there is only a bit left!
After all that we had a lovely summer sunset.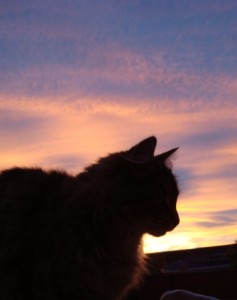 Enjoy
Salsy.
Tweet