Celebrate Back To School Days
– Quilters Blog Hop Party.
Thanks to Michele at Quilting Gallery I am opting in to join the Blog Hop Party to Celebrate Back To School Days.
Lots of fun visiting others' sites, making new quilting blogger friends, and lots of FAB GIVEAWAYS to enter.
So follow the link here or on the banner above to find your way to the party, 🙂
Just today I was excited to open a parcel from Lori at Stitches N' Giggles that I had ordered just a short time ago.
A jelly roll from Moda Fabrics of Lucy's Crab Shack by Sweetwater.
In fact this is my first ever Jelly Roll!
I have been eyeing this up for some time and happened to see it on sale.
Just love the bicycles, beach gear on the line, numbers, flowers etc. Just a great beach holiday feel.
So for my Giveaway I have decided on 8 of these yummy strips of fabric…in the "orangesicle" range, for the lucky winner.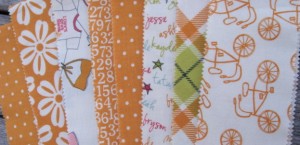 The giveaway will be open until September 3, and I am happy to post anywhere in the world.
Just enter a comment on my site and you will be in to win.
Any facebook likes, shares, tweets, site following will of course be greatly appreciated.
Have fun.
Salsy
Tweet