Last weekend I attended a Cushion Making Course
in Wellington.
Had a great day's activity with "the nerdiest bunch of Cushion-Making Women",
so our teacher told us! And came home with SIX finished cushions.
Well we were all keen to learn, and the resulting bunch of cushions were all gorgeous
and many I would have loved to have taken home myself.
Over the years I have been stashing fabrics and have often said to myself..
"That would make a great cushion".
I haven't done a lot about it, apart from making a few with envelope backs and sewn-up edges.
What a thrill to finally tackle the art of inserting an invisible zip…and winning.
Now I am away..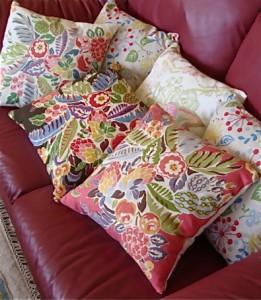 Just love being able to do justice to the beautiful Designers Guild fabric that I have been hoarding for years now.
I hadn't wanted to use it until I was sure I could do great job with it.
Happy with the results.
Salsy
Tweet