It has been fun working with the gorgeous fabrics
of both Daisy Janie's (organic cotton) "Shades of Grey" range,
and Malka Dubrawsky's "Stitch In Color" range.
One day I started having a play by making some half-square triangles.
One thing led to another and some cute modern blocks appeared.
The main background fabric is Dapple Dot. Block borders are Ragg Tagg. Back and binding is Zipper Tape. These three are all from the "Shades Of Grey" organic cotton range by Daisy Janie. All still available in my Etsy Store.
The vibrant turquoise of Malka's fabric was so fun to work with. I bought mine from Stitches N'Giggles.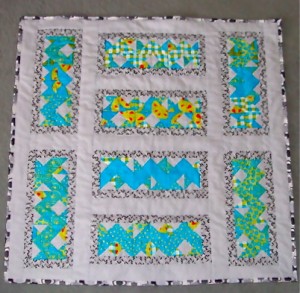 The quilt measures 33 x 33 inches.
It would make a nice wall hanging.
And I have just listed it in my ETSY STORE…FOR SALE.
Salsy
PS
Thanks to Michele at Quilting Blogger…
this quilt is part of the fun weekly contest.
Do go and have a look at all the wonderful quilts
and have a vote for your favorites.
This week's theme is Wall Hangings. 🙂
Tweet