Parcels in the post that include new fabric for the stash,
or fabric creations…, are my kind of parcels.
A couple of days ago both of these things arrived in my mailbox.
Life keeps throwing us challenges lately, so some light relief has been much appreciated.
First there was a small envelope all the way from Exeter, Devon, England!
This has occurred as part of the ATC (Artists Trading Card) Swap ..see previous post.
Thanks to Teresa these bright treasures are now on our mantlepiece.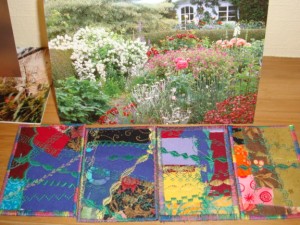 The ATCs are entitled "Crazy" and I have 1-4/12. I wonder where the other 8 will go?
Also in the mail was a parcel I had ordered from sewmeasong/ Becca/ on Etsy.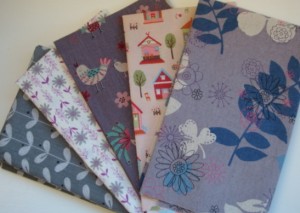 They are Leaf Stripe in Slate, Collection etoffe imprevue, Yoko Saito, Lecien
Flowers in Purple and Grey by Yuwa of Japan,
Kei Live Birds on Dusty Purple by Yuwa of Japan,
Daiwabo Japan Houses from Pretty Wave by Junko Matsudo,
and Lavender Floral from Isso Ecco for Lecien.
Some of these fabrics have already found their way into some new blocks for the 'Woodland Dreams" quilt in process.
Salsy
Tweet