Here we are on the last day of 2011…Rain, rain, rain.
I have been enjoying a few books and magazines.
One of my friends has loaned me a copy of her book by Sarah Ban Breathnach…"Something More…Excavating Your Authentic Self"
A quote that appeals is
There are no little things. "Little Things" are the hinges of the Universe. Fanny Fern
Another friend has loaned me "The Modern Quilting Bee Block Party" by Alissa Haight Carlton and Kristen Lejnieks.
One of my favorite quilts in this book is "Party of Twelve" , designed, assembled and quilted by Megan Risse. I love the look of the Confetti blocks that she show us how to create.
So the combination of the two books and a small stash of bright Liberty of London pieces has inspired my to have a play on this rainy day..and see what happens.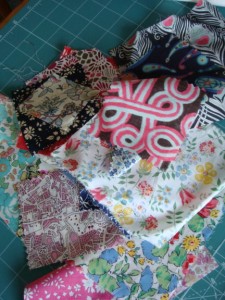 Selected pieces of Liberty of London cotton.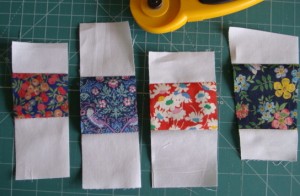 Wonky cutting is fun and liberating!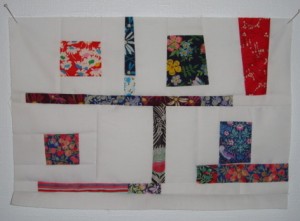 I am wondering whether or not to leave this as it is…as a wall hanging, or to create more blocks and create a quilt.
I will need to gaze at it a while longer. Less is more comes to mind.
Let me know what you think?
I did feel the need to have some completion and came up with this little gem.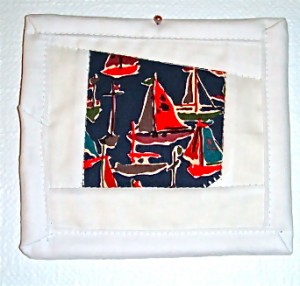 One tiny piece of this cute nautical design just seemed to be asking for a small frame.:)
It is happily pinned in the hallway.
Wishing you all a great, inspiring, healing 2012 as we all excavate our authentic selves with the gift of creativity.
Salsy
Tweet