Yesterday I had a great clean up of my sewing are, tidied my fabrics, and made new space for future projects .
Such a great feeling!
I even feel it's tidy enough to share a pic.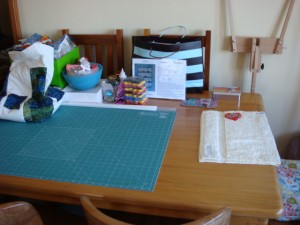 Also, I am happy to share my fun pin holders. I have a lot of fun using these…and have two on the go for my sewing activities.
I have one heart and one Very Helpful Bear.
I have listed the first one of these in my ETSY STORE.
and..
Keeping track of those pins is so easy with the Helping Bear Pin Holder.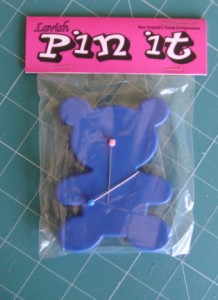 This is the Lavish Pin it pin holder. It is originally made with bobby pins in mind, but I have been happily using mine for my sewing pins.
This would also make a great Bear Template for applique or stuffed toy design.
A Muti-tasking Blue Bear!
Size 9 1/2 cm tall, 7.3 cm wide at widest point.
It is made of plastic and has magnets inside to attract and hold the pins.
This product has been designed by New Zealand's Young Entrepreneurs…one of whom happens to be the son of my girlfriend.
On the packet it states "We (Lavish) are the Business People of Our Future, therefore we would appreciate your support through the purchase of our product.

Also, tomorrow I plan to take my Bernina sewing machine to the store to get the free motion quilting part "tuned up" . I would like to get some practice in a get a bit more adventurous in my quilting activities.
We are having a gorgeous dose of summer weather here, so I'm off out into it!
Salsy
PS. I was a bit naughty yesterday and bought some fabric at Stitches N' Giggles.…Lori has a great sale on until the end of 2011…just a few days to go.
I chose a Fat Quarter bundle of "Amelia" by Me & My Sister…..looking forward to the mail 🙂
Tweet