Month 4 of the Mystery Quilt "That Square Quilt" has raced up.
Both parts of the TWO Mystery Quilts that I am doing concurrently are done now.
If you are a new viewer, this Mystery Quilt has been designed by The Gourmet Quilter.
The first one, as follows, is made up with gorgeous and girly "Amelia" range, by Moda, designed by Me & My Sister.
This fabric was kindly donated by Lori at Stitches N' Giggles.
Please visit her site for great daily specials, great service and of course great fabric.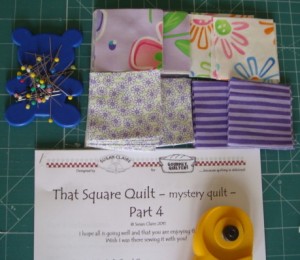 Here are the first pieces all cut out and ready to go.
…and half-square triangles coming along nicely.

Half square triangles…instructions are very clear on the pattern…here are a couple about to appear…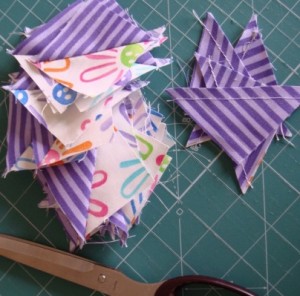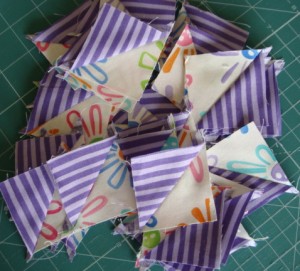 Trimming those new squares…not my favourite job, but those neat squares will pay off later I am sure.
Now a trap for young players is to make sure the two fabrics are in their correct positions on the pinwheel. This is something I did not know to take in to account. So the sewing editor in my Tuesday sewing group asked me "Have you got your pinwheels going the right way?"
What do you mean? I replied.
WELL, to cut a long story short, I have got mine the wrong way around. I am never quick to rush in to unpicking, so they will stay this way until it may or may not become clear, as I put the pieces together at the end, that I need to redo them!
I have bravely continued with the second fabric selection…This quilt I have named The Gypsy Quilt.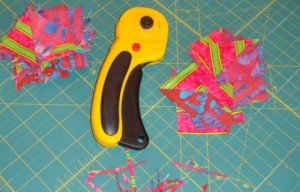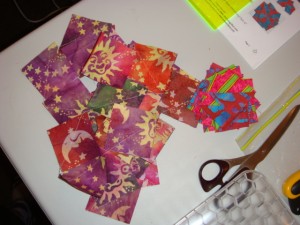 My fabrics are close together in color so these half square triangles are subtle in contrast.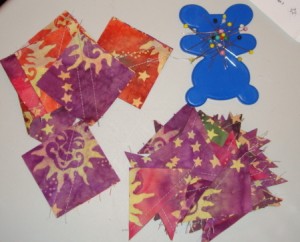 I love it that my Bear helps me!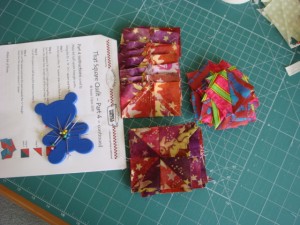 Pinwheels nearly done…This time with close attention to the fabric order! I think I have it right.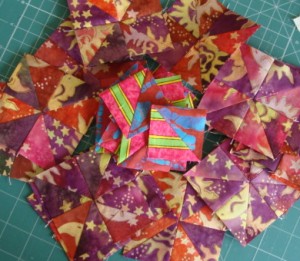 Here it is all done for this month! Well for a square quilt..there were plenty of triangles to catch a triangularly-challenged beginner like myself unawares. Still, nothing that a cup of tea and a piece of pre-Christmas cake won't help 🙂 I'm off to put the kettle on….
Salsy
Tweet