I have been making good progress on my latest quilt.
As it emerges I am feeling
that it may be called 'Woodland Dreams"…time will tell.
The central panel of each block is made with the delicious Collection Etoffe Imprevue by Yoko Saito ..Leaf Stripe in Slate. I do seem to be drawn to the greys lately. They go so well with other colors. I had only a fat quarter of this when I started. It soon became apparent that quilt would grow so I have sent off for more. Perhaps a small pause would be good so that I can rally more inspiration for the next blocks. So far I don't know which is my favorite.
What do you think?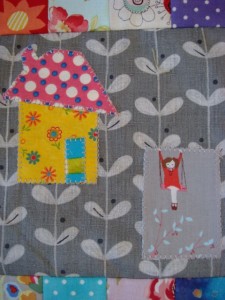 It is fun to feature those girls on swings and scooters from Aneela Hoey.
Can you spot those cats watching the deer?
I have sent off to a lovely Etsy store sewmeasong.
Becca there has posted the parcel..I did manage to choose a few other pieces of fabric there while I was at it. Wouldn't you?
Meanwhile keep a look out here because Lori (Stitches N'Giggles) and I are plotting a new Giveaway.
Visit her store HERE for latest ranges and get your fabric wishes lined up. Coming Soon!
Salsy
Tweet