Despite the gorgeous sunny day today..
I am feeling a sadness
as I look out my window to my favorite view,
hear the drone of chainsaws and watch beautiful old trees being felled. Those trees are older than I am (quite old!). It makes me sad and angry when people will not accommodate for old trees. "Progress" they will say…or "they were too dangerous". These trees have a lot of space around them…maybe people could have respectfully just given them a wide berth. Sad.
I have been distracting myself with a new stash of fabric treasure which has come my way. Beautiful cotton from men's business shirts…the pockets in fact. Apparently most of the shirts sold do not need their pockets….lucky me.
So I am not exactly Re-cycling..as they have not been used or worn yet. Maybe Upcycling…as I hope to turn them into something different or bigger. Maybe Sidecycling as they have been intended for a certain use, and I am diverting them to something else new and as yet unsused. What do you think?
Here are the first photos...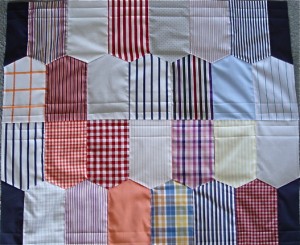 The pockets have a natural way of fitting together..and it seemed to be going with the flow to let them be like this. I may call this small emerging quilt "Corporate Structure". It just already is in a strong and unbending sort of way. Just like the lack of heart and flexibility shown by the tree felling fraternity nearby.
What we need is the emergence of new heart-centered patterns in this 2012 year.

Some great new ideas come from "Out of the Blue" with a little restructuring. Sometimes new ideas may at first seem a little unbalanced. Often we can learn from others overseas.
Well, you can tell I am getting a little introspective…with the trees coming down.
Sad!
Salsy
Tweet