for their kind donation of unused shirt pockets from their great shirts.
I feel I can share some pics of a baby quilt commission, as I have been told that the quilt has been well received.
I had bought the "Sail Away" pattern from the Gourmet Quilter some time ago…attracted by the very fun sail boats…and was pleased to use this for my quilt.
I have made a few changes too.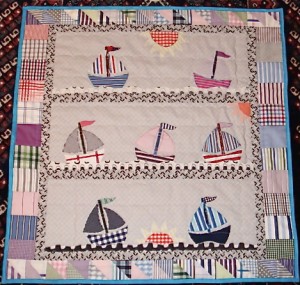 I have loved working with the gorgeous cotton fabrics from the shirt pockets, and the Daisy Janie organic cotton range "Shades of Grey".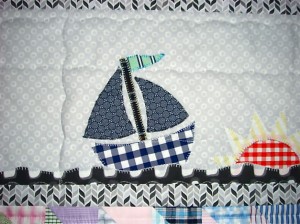 The sea is Zipper Tape, and the sky is Dapple Dot..both from Daisy Janie Fabrics….available from my Etsy Store.
Don't you just love the cute sail boats?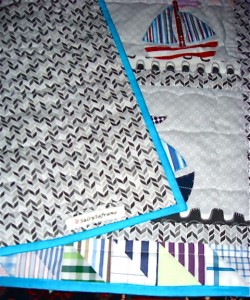 The binding is made from the lovely "Stitch In Color" range by Malka Dubrawsky. Having just had fun giving some of her fabric range away, with the help of Lori at Stitches N' Giggles…I just had to order some for myself. It had just arrived in the mail when I was deciding on the binding.
The sashings and back are made with Ragg Tagg, also from the "Shades of Grey" range.
I did have fun making the half square triangles for the top and bottom borders..as they have a "sail -like" appearance too.
The colors are definitely better in the quilt itself than in the photos (room for improvement!).
So very satisfying to complete another project.
Salsy
Tweet