Last month we had a Giving Thanks Giveaway
The winner of my giveaway of three fat quarters from the "Amelia" range,
by Me & My Sister…was Renata.
Renata does not have a blog of her own yet, so I asked her if she would share a little about herself.
She did:
I look forward to the FQ's. About me. I've been quilting for 15 years. Along with others, I make quilt tops for our church's care activities. Our group distributes quilts for baptisms, high school graduation, and comfort quilts. We do a variety of quick, easy, conventional patterns.
Most of my personal quilts are traditional. I like raw edged applique. I do small projects – just to get them DONE. This includes wall hangings and quilted postcards (I've made over 500 of them). Recently I finished two Skinnie patterns from the Ribbon Candy Quilt company. The last couple of years, I've taken up hand dying fabrics.
On my machine, I've a 4 color big star lap quilt that I am free motion quilting. For my next piecing projects, I plan on two lap sized Take 5 quilts. One will combine hand dyed and printed fabrics in the orange, gold, brown color range. The other will use the I Dream of Paris fabric from Windham. My other project includes cutting appropriate fabric for several watercolor wall hangings.
My favorite quilting color is blue followed by green. Blue is so easy to use. Just throw in a little purple and green with a white or black background. And you have the perfect quilt. I am trying to expand my color range, hence the autumn color lap quilt.
Thanks Renata..I am sure that if and when you get a blog going..it will be great.
Thanks to all who entered by leaving a comment about what you were grateful for.
Not surprisingly the themes that emerged were about family…husbands, sisters, children…
and about health too. I hope that this Christmas brings you all more of what you are grateful for.
Thanks for stopping by..and leaving comments…much appreciated.
Oh,..and what is a post without a picture??
Here is a wee selection of fabric that has arrived in my stash of late..from Stitchbird Fabrics.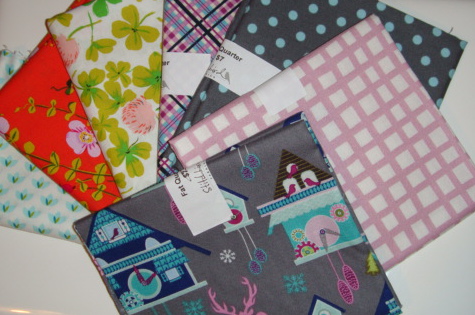 No doubt these will be turning up soon in a patchwork quilt….
Tweet